The SocioNeeds Index® Suite is a robust toolset embedded with the HCI platform that integrates powerful analytics to help identify and reach under-resourced communities.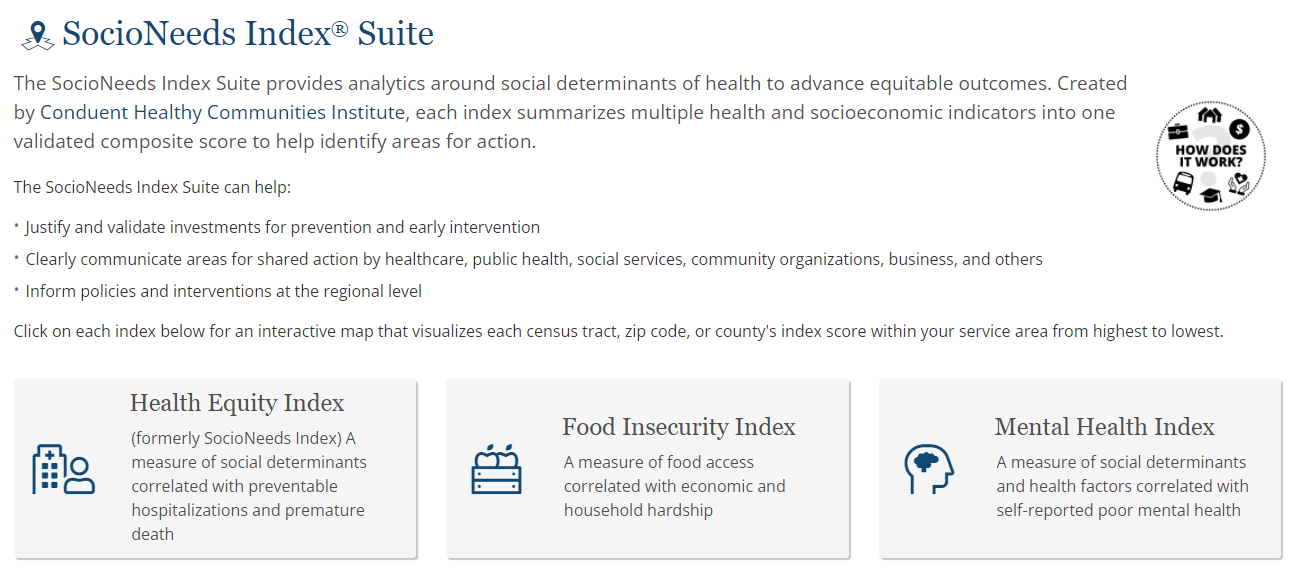 With a holistic view of wellness, HCI's SocioNeeds Index Suite provides integrated analytics around social determinants of health to advance equitable and connected care. Displayed as an interactive map on the HCI Platform, the SNI Suite is the leading tool for assessing, planning, and collaborating on community health improvement.
Proprietary analytic technology in the HCI platform calculates and assigns an index value for each U.S. census tract, zip code, and county. Each index summarizes multiple health and socioeconomic indicators into one validated composite score, which helps identify areas for action on a range of topics including:
The Health Equity Index – a measure of social determinants correlated with preventable hospitalizations and premature death
The Mental Health Index – a measure of social determinants and health factors correlated with self-reported poor mental health
The Food Insecurity Index – a measure of food access correlated with economic and household hardship
Click on the links above to learn more about a specific index. Or you can view the SocioNeeds Index Suite by adding "/indexsuite" to your site URL.
Conduent HCI does not recommend comparing index values between years due to data sources' refinements of methodology for calculating index component indicators and refinements of the Conduent HCI's index calculation methodology.
Although Conduent HCI does not recommend comparing index values between time periods, previous years' data is provided to assist with data exploration and providing historical context. For example, if you have used index values in past reports or assessments, having access to those years' data allows you to look back at that snapshot in time relative to other data from that same year.