The U.S. Small-area Life Expectancy Estimates Project (USALEEP) provides life expectancy data at the census tract level. The data is provided for most census tracts in the United States. The project calculates abridged life tables to produce estimates of life expectancy at birth -- the average number of years a person can expect to live. The calculated abridged life tables are based on a methodology developed for this project and described in the report found here. The initial period of measure for which life expectancy at birth was calculated for the project is 2010-2015. Maine and Wisconsin (and their associated census tracts) were excluded from the project because they only have 5 years of geocoded death records (2011-2015), instead of at least 6 years. Project data and documentation can be found on the CDC's National Center for Health Statistics site.
For census tracts that are missing from the dataset, there are multiple reasons why there may not be data for those census tracts. The methodology document provided by the source provides detailed reasoning through an in-depth description of the entire methodology of the project. Some common reasons why census tracts might not be included in the dataset include (also see diagram below):
Only census tracts that are in both the U.S. Census 2010 and the ACS 2011-2015 population data tables are included
Only census tracts with a 6-year combined total population of at least 5,000 people are included
After the above exclusions, 66,426 census tracts had abridged life tables created for them (these are the underlying life tables used to produce the life expectancy estimates)
Of these, there were 764 census tracts that had life tables produced, but had life expectancies with too high of a standard error, and those were also excluded
A total of 65,662 census tracts with life expectancy data remained in the final dataset after all of the above exclusions.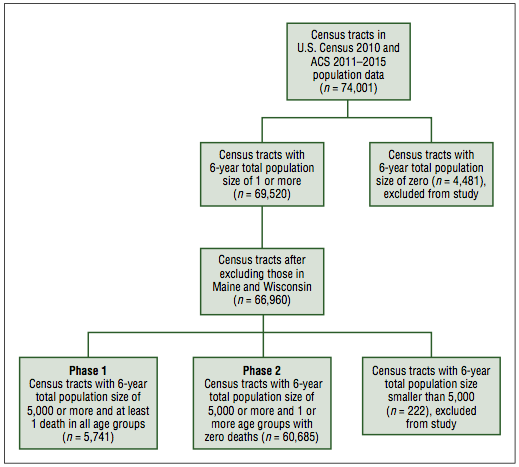 While the USALEEP project currently only provides data at the census tract level, the Institute for Health Metrics and Evaluation's (IHME) indicators (Life Expectancy for Females & Life Expectancy for Males) provide data at the county and state levels. Details on IHME's methodology can be found on the source's site here, but in summary, IHME used small area estimation methods to produce annual life tables at the county and state levels for the United States. While the dataset similarly to USALEEP provides estimates for life expectancy at birth, it uses de-identified death records from the National Center for Health Statistics (NCHS) and population counts from the census bureau, NCHS, and the Human Mortality Database in its analysis. Additionally, the IHME data is provided for single year time periods at the county and state levels, while USALEEP's data is provided in six-year time periods (2010-2015, for example) at the census tract level only.